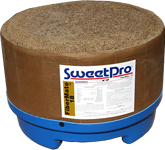 "One pound of SweetPro® blocks replaced nearly 4 pounds of range cubes with no reduction in performance."
Gordon Christiansen, a rancher and farmer from Durham, Kansas, knows the importance of getting a trailer load of light calves off to the right start. He had been starting calves by feeding them good brome hay and a medicated pellet that was popular in the local area. Christiansen decided to try a new strategy – SweetPro® Starter.
The first part of October 1998, Christiansen received 35 head of light weight heifers weighing an average of 330 pounds. He processed the group after the first day and fed them brome hay and Starter for 10 days after their arrival. After the 10 days, he weighed the calves and took them to grass.
The results from the weigh-up were impressive. The calves had gained an average of 22 lbs per head. An outstanding 2.2 lbs per day for the 10 day time period. That's not all. There were no deaths and no reprocessing of the cattle. "I was in disbelief," Christiansen said. "I was afraid to tell anybody because I knew they wouldn't believe me."
Seven days later, Christiansen received another 50 head of heifers weighing an average of 335 pounds per head. This was his opportunity to prove that the first group was not a fluke. He proceeded to feed them exactly as he had the first group. At the end of 10 days, it was time to see the results. Not only did the second group perform the same, but had actually out-gained the first group by 0.4 lbs per day. Again there were no deaths or reprocessing. "
I invited a couple of my neighbors over to look at the second group of calves as we weighed them," said Christiansen. The gain was calculated using the purchase weight. "The neighbors told me there was no reason to shrink the cattle." He continued, "What we saw was framy legit gain, not gut fill from those 10 days."
Christiansen also noted that he had cut his feed cost in half by using the Starter block. The medicated starter product he was using previously cost 30 cents a day compared to about 15 cents a head per day with the block. He also saved on medication and labor from not reprocessing. Most importantly, he had not lost any calves!
"The calves started on Starter began eating right off the truck. They were licking the tubs, eating and drinking immediately. Also, we didn't have the problem of some calves coming to the bunk to eat starter pellets while others stayed back. The tubs are available all day and not just once or twice a day at feeding time."
When asked if the SweetPro® Starter met his expectations, Christiansen confidently responded, "We were extremely pleased with the gain, performance and cost of gain using the Starter, but this was just a bonus as far as we were concerned. Getting the calves started eating right away and getting the necessary nutrients to get the immune system up and running was our primary goal."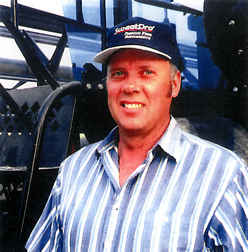 "Heifers which failed to rebreed with their second calf dropped from over 20% to zero or less than 2%."
In 1997, commercial cowman, Dennis Mayer of Gackle, North Dakota, was wrestling with a common problem – getting first calf heifers to re-breed for their second calf. As he selected for more milk and maternal traits in his Simmental based-Gelbvieh-cross herd, the number of open first calf heifers had climbed to between 20% and 25%.
Nearby SweetPro® dealer, Duane Nester of Streeter, North Dakota, recommended extended use of SweetPro® 16 – 24. Results were dramatic. The first year Mayer had only 8% opens out of 180 cows in the entire herd and 2% opens the following year. "It's the only thing we've done different," Mayer noted. "It really made a difference."
Heifers are put on the SweetPro® tubs 1 month before breeding and they stay on the tubs until Fall. "They'll typically eat a pound to a pound and a quarter a day, per head," said Mayer. He added that it solves a nutrient problem. "These young cows are having a hard time raising a calf and growing and changing teeth and still getting enough nutrients strictly from grass. This (SweetPro®) helps – it helps a lot! The cow that milks a lot will raise you a bigger calf so you have to provide the nutrients for her so she can re-breed."
Mayer also said that the breed-back support has also helped in his overall herd management, changing culling decisions in an operation where all heifers are home raised. "We don't buy any, so we've got 2 years invested in that cow. They're the future of your herd, so if you start throwing them away as opens, it's not very good economics and it doesn't improve your herd."
Mayer also added a pragmatic note about culling when all your cows come in bred, "Now you can pick out the one that's got the bad feet or the one that chased you over the fence right after she calved – all those things we as cattle producers tolerate in the interest in having the numbers around to fill our pastures."
On mature cows, Mayer is also using SweetPro® for breeding support. As with the heifers, tubs are put out a month before the bulls go in, but rather than keep tubs out until Fall, as he does with the heifers, cows are only on the tubs 2 months.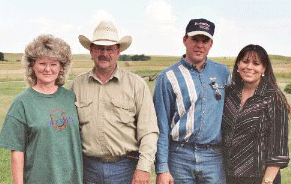 The heaviest calves they ever raised, and during a drought!
A.J. Starr of Faith, South Dakota along with his wife, Glenda, sons Brian and Jayde and their wives ranch 25,000 acres of western South Dakota prairie. They run around 800 mother cows, Angus/Limousine cross. A.J. has been in this breed since 1972.
He had always been looking for a year-round tub that was not too hard in winter or too soft in summer, yet had a full mineral package. About 4 years ago, he found SweetPro® cattle blocks at a trade show and decided to give them a try. He was in and out of them, stopped and started and finally, liking what he was seeing, decided to put the cows on SweetPro® for a solid year. He's been feeding it ever since.
The first set of cattle he put on SweetPro® blocks, first calf heifers, had 80% breedback on the first heat cycle and 98.5 – 99% overall conception success with the first use. After 2 years on SweetPro®, this had risen to 85% conception on the first heat cycle. The total herd's conception rate was 98.5% – cows that actually gave birth to a calf.
On SweetPro®, the calf is up right away, full of vigor and by the time mom has licked it off, her cleanings are on the ground. This makes a significant difference in breedback success. Weaning weights are 50 – 60 lbs heavier when on SweetPro®.
Herd health on SweetPro® blocks is excellent. 99.9% of foot rot and sore eyes is eliminated. A.J.'s cows are all natural, don't use antibiotics and command a market premium.
SweetPro® also gives the cattle great haircoats. They winter easier and are doing great on an average 1 lb a day per head of SweetPro® tubs and dry range grass during the season. Even at 20 below zero the cows can get the amount they need as the NON-molasses SweetPro® tubs deliver uniformly, hot or cold.
Two weeks before calving, they bring the cows in and hay them. The cattle do much better on a low quality hay than they do on higher quality when using the SweetPro® tubs. They also consume less hay and forage, even though they have all the hay they can eat. They can run more cows now on the same acreage than in the past.
A.J. has eliminated feeding range cubes/cake with the SweetPro® tubs. This has saved him not only time spent running around the pastures (SweetPro® tubs need only be put out every 7 – 10 days) but he's stopped the waste from cows stomping range cubes into the ground/mud. Also, timid cows have a chance to get at the tubs once aggressive cattle have finished. A.J. says, "The cows take care of the tubs and the tubs take care of the cows."
"Consumption control is as easy as falling out of your pick-up" according to A.J. If consumption increases due to a lesser quality of range grass, you use a higher number on the SweetPro® tub being fed. The most commonly fed are the SweetPro® 16, FiberMate 18 and FiberMate 20. If consumption decreases, you use a lower number on the tub.
The big test for A.J. and his family came a few years ago during a summer long drought. Only the trees greened that year but with SweetPro® they were able to hold the consumption on the tubs to 1.5 lbs a day per cow/calf pair and ended the season with the heaviest calves they ever raised. The first calf heifers weaned over 600 lb calves. Even in 110 degree heat, his first calf heifers that year bred 80% on the first heat cycle and 100% within 45 days.
Now SweetPro® has introduced mineral blocks with Altosid IGR feed through fly control (also available in standard blocks). A.J. says that they've had real good results with them and it's going to be quite a program. Making sure you get them out before the fly season starts is important.
A.J. goes on to mention that his ranch horses have also benefited from SweetPro® products. In one case, a 13 year old gelding was sold to people in Wyoming and came down with diagnosed West Nile. The folks there didn't know what to do so they sent him back and he came out of the trailer as sick as a horse can get. Since the vets couldn't recommend anything more than some antibiotics, A.J. had him put on SweetPro®'s EquiPride®. In 2 – 3 weeks the horse "snapped out of it" and is fully recovered.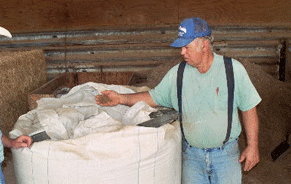 A 10% feed increase has resulted in 33% better gains.
At the Double O Charolais ranch in Marshall, Texas, Alton and David Oney raise purebred Charolais bulls and heifers.
Since adding SweetPro® Feed's Fresh Start to their TMR, feed intake has increased 10% while gains have increased 33%. The cattle now finish everything in their trough, with no wastage (even in the heat of summer) and are gaining about 3 to 3.5 lbs per day. Alton says that, "No matter what you feed, if they are not consuming it, it's not going to work." The immediate impact of adding Fresh Start in the feed can be seen in 2 – 5 days.
The Oney's are now able to sell bulls in the Spring that would have previously sold in the Fall at the same weights and maturity (sold at 16 – 20 months of age and 1,700 – 1,900 lbs). Fresh Start helps make the digestive system work much more efficiently and helps rumen development. This allows them to finish the bulls at a much younger age. They have 100% fertility with their bulls (despite feeding whole cottonseed) and have lost none to digestive problems whereas in the past this was a recurring problem. Alton says the health of the herd is tremendously better.
The Double O uses a mix of corn gluten, soybean hulls, rice bran, whole cottonseed and alfalfa hay mixed with Fresh Start at around 1 oz. per hundred pounds (cwt) of body weight. Fresh Start makes this a complete feed. It contains all the minerals that the cattle need in addition to SweetPro®'s exclusive ProBiotein® blend additive. ProBiotein® works to promote nutrient uptake and health in the animals.
Feed costs at the Double O have dropped to $120 a ton (compared to their competition's average cost of $220 – $230 a ton). The whole cottonseed in the feed is high in oil and energy. With Fresh Start, the increased blood circulation counteracts any of cottonseed's negatives and keeps the bulls fertile. Alton goes on to say, that no matter how much fat you have in the diet, you also need energy for the animals to consume the fat properly. Fresh Start makes the feeding program work.
Alton says about Fresh Start, Anybody that isn't feeding it, is losing money every day.
At the Double O Charolais ranch, they're gaining more for less.