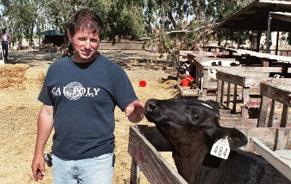 "It's absolutely terrific!"
At Den-K Holsteins in Los Banos, California, Dennis Areias has been feeding SweetPro®'s Fresh Start to his heifer calves in hutches.
Den-K is a 21 year old pure bred Holstein operation that has a herd milk average of 27,000 lbs (12,247 kg). They have bred cows in the 38,000 to 53,000 lbs (17,236 to 24,040 kg) of milk class, hold a number of state and national records and also breed bulls in the top 100. Recently one of their heifer calves was sold (to be born) for $27,500. So they really work hard to give these valuable calves the best start possible.

Dennis uses Fresh Start in the calves milk replacer, both in bottles and in the pails. He says with the pails you stir it in by hand. In the bottles you shake it and the calf's sucking action also helps break it up so there is no wastage. Fresh Start goes to work immediately delivering nutrients into the intestinal tract and any spill over into the rumen helps its development. The calves are growing and maturing faster than before and those born in March are eating 4 lbs (1.81 kg) of grain a day plus some hay by mid-May.

One slow calf in particular would not respond to anything Dennis tried (at 6 weeks), but when Fresh Start was introduced, he saw a difference in less than a week's time! The calf had not been able to finish a gallon of milk, but on Fresh Start began to finish all her milk and water, and now takes everything she is given. Fully recovered, she's caught up to the other heifers her own age. Dennis says, "it's like giving them a shot of vitamin B – it perks them up", "it's absolutely terrific…"

Dennis also uses Sweetpro®'s Dry Cow block supplement for his cows close to calving.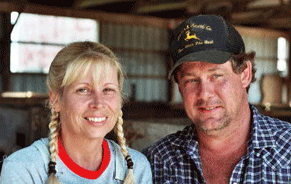 "Milk production came up and stayed up!"
Tony and Connie Hipkins, who run the Wentworth Bros. Dairy farm in Clare, Michigan (80 Holstein cows and growing), use SweetPro® non-molasses, distillers grain lick blocks in their operation. They heard about the benefits from their local elevator's nutritionist, at Johnston Elevator.
SweetPro® blocks feature natural and safe protein, vitamins, organic-complexed minerals and ProBiotein®, SweetPro® Feeds' proprietary blend additive. ProBiotein® consists of yeast cultured on a media of wheat, oats, barley malt and flax. It also contains an enzyme array along with a prebiotic oligosaccharide to feed beneficial probiotic bacteria. Feed savings average between 25 and 30% due to better digestion support and utilization.

After introducing SweetPro® 16 blocks to their herd, milk production at Wentworth jumped from 50 lbs (22.68 kg) to 62 – 65 lbs (27.2 to 29.48 kg) over a 2 week period – total gain of 1,200 lbs (544 kg)! For 15 cents out, they got $2.08 back. They continued to feed the same amount of concentrate and the blocks were the only difference. Tony says, "Milk production came up and stayed up!"
At first the cows took down the 250 lb (114 kg) blocks at the rate of 2 every 10 days, then stabilized at 4 blocks per month. Tony mentions that he has always had a "lot of trouble" with Displaced Abomasums (DA) in his herd but since starting with SweetPro® blocks there has not been a single recurrence. The cows also had sore feet before, but that situation is turning around. Cows that couldn't move without dragging a leg are now walking better.

For their heifers, bred-heifers and dry cows, the Hipkins feed SweetPro® Calver/Breeder Dry Cow blocks. Twenty-eight cows will finish a block every 7 days. Additionally, the calves in hutches receive a daily ration of SweetPro®'s Fresh Start bagged feed alongside their milk-replacer. Fresh Start was originally designed as a dairy lactation supplement but it is great for the calves as well.
Tony and Connie were impressed by what they were seeing in the herd while on SweetPro® blocks but in order to convince themselves that it was SweetPro® making the difference, they decided to take the cows off the blocks for a 30 day test period. In 2 weeks they lost 1,000 lbs (453 kg) of milk production. Tony said it was, "like they fell off the end of the earth." So they quickly put the cows back on the SweetPro® blocks and milk production came right back up. Tony says that he will not be without the blocks again.