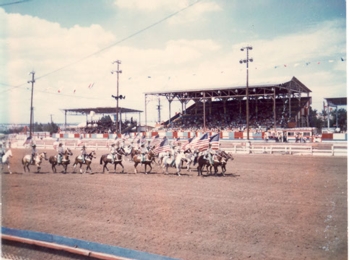 Thursday Jul 23, 2015 4:00pm thru Sunday Jul 26, 2015 8:00pm
HISTORY

The first official Arapahoe County Fair was held in 1906 on the banks of the South Platte River across river from Riverfront in Littleton. Floods, vandalism and neglect took their toll on the original site, and the County Fair was discontinued.

For almost 40 years, Arapahoe County was without a location for the fairgrounds. Without a home, the County Fair was held in the early 40s in any available parking lot. In 1945, it was hosted at the Rio Grande, which is now Bega Park in Littleton. From 1946-1984, came the fairs first long-term home, at Windermere and Belleview.

The fairgrounds at Windermer and Belleview were lost in a land swap in 1985. The Fair Association found a new home at the National Western Complex in Denver. It remained there for five years until a group of volunteers brought it back to the County at the Jockey Club Grounds and Deer Trail School.

In the years following, the Fair was held in different locations around the County, including the CSU Extension building in Littleton, Castlewood Grange Hall in Englewood, and Quint Valley Fairgrounds in Byers.

The current, permanent location for the Arapahoe County Fairgrounds and Park opened in July of 2006, just in time to celebrate the Fair's Centennial Celebration. Today, the facility is undergoing further expansions to serve the community for many years to come.

COME SEE US AT OUR BOOTH AT THE FAIR!
Arapahoe County Fairgrounds
25690 E Quincy Ave
Aurora, CO 80016