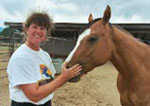 "Laura figured they saved 24% on their hay cost per day..."
SweetPro® lick blocks have been used in the beef industry in many different ways, but can the superior qualities of SweetPro® supplements be used in a horse production program? Ron and Laura Miller from Westcliffe, Colorado, who knew the benefits of feeding SweetPro® to cattle, decided to put SweetPro® to the test on horses.
They need to maintain a high level of performance. With SweetPro®, their horses showed the energy and endurance to perform at the Miller's high expectations. "With the SweetPro® block, we noticed that our horses had more endurance but without becoming excitable—or 'Hot'."
A horse's physical appearance is also an important feature when leasing to clientele. With SweetPro® blocks, Ron and Laura noticed immediate positive results. "They showed great coat shine within the first two weeks of using the block. They also had a noticeable change in mane and tail quality." Ron further commented that even when the horses are not clean they still maintain a shiny, quality hair-coat.
Feeding SweetPro® 16-24 also changed their horses feeding efficiency, too — FOR THE BETTER! The Millers normally feed their horses hay every seven days, but when fed SweetPro®, the hay would last ten days.
Laura figured they saved 24% on their hay cost per day, and with the cost of the block added in, she determined that the overall day-cost dropped 22%. Consumption of the block was one-half to three-quarters of a pound per day. "We could really tell that the horses were eating less because there were less hay stem and grain in the feces."
The Millers also noted that during the last three months of a mare's gestation, her nutritional requirements double. Consequently, they normally feed about twice as much hay and grain to meet their mares' nutritional demands. But when given the SweetPro® block, the mares continued to eat regular amounts of grain with only a slight increase in the hay — all while eating one pound of SweetPro® per head per day.
Horse health was also improved with SweetPro® blocks. The Miller's horses are wormed and given shots on a regular schedule. Before they used SweetPro®, Ron and Laura had to treat infectious diseases. However, since they began using SweetPro®, the Millers have not had to treat outside of their normal schedule.
Laura also noted that "due to the changes in weather, area horse owners have noticed a green discharge in the noses of their horses, but we have yet to see this with our horses." She added, "another thing we noticed since we started using the block, is that our horses' eyes instantly cleared up. The eyes went from a reddish pink to a bright white."
With the cost of the block added in, the overall day-cost dropped 22%.
With everything they saw with their horses, the Millers are convinced that proper nutrition is essential in general health and a horse's ability to perform physically. "When you have good genetics, feed quality hay, and properly supplement with a product such as SweetPro®, there's nothing that you can't do with a horse."