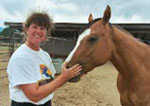 "Laura figured they saved 24% on their hay cost per day..."
SweetPro® lick blocks have been used in the beef industry many different ways, but can the superior qualities of SweetPro® supplements be used in a horse production program? Ron and Laura Miller from Westcliffe, Colorado, who knew the benefits of feeding SweetPro® to cattle, decided to put SweetPro® to the test on horses.
They need to maintain a high level of performance. With SweetPro®, their horses showed the energy and endurance to perform at the Miller's high expectations. "With the SweetPro® block, we noticed that our horses had more endurance but without becoming excitable—or 'Hot'."
A horse's physical appearance is also an important feature when leasing to clientele. With SweetPro® blocks, Ron and Laura noticed immediate positive results. "They showed great coat shine within the first two weeks of using the block. They also had a noticeable change in mane and tail quality." Ron further commented that even when the horses are not clean they still maintain a shiny, quality hair-coat.
Feeding SweetPro® 16-24 also changed their horses feeding efficiency, too — FOR THE BETTER! The Millers normally feed their horses hay every seven days, but when fed SweetPro®, the hay would last ten days.
Laura figured they saved 24% on their hay cost per day, and with the cost of the block added in, she determined that the overall day-cost dropped 22%. Consumption of the block was one-half to three-quarters of a pound per day. "We could really tell that the horses were eating less because there was less hay stem and grain in the feces."
The Millers also noted that during the last three months of a mare's gestation, her nutritional requirements double. Consequently, they normally feed about twice as much hay and grain to meet their mares' nutritional demands. But when given the SweetPro® block, the mares continued to eat regular amounts of grain with only a slight increase in hay — all while eating one pound of SweetPro® per head per day.
Horse health was also improved with SweetPro® blocks. The Miller's horses are wormed and given shots on a regular schedule. Before they used SweetPro®, Ron and Laura had to treat for infectious diseases. However, since they began using SweetPro®, the Millers have not had to treat outside of their normal schedule.
Laura also noted that "due to the changes in weather, area horse owners have noticed a green discharge in the noses of their horses, but we have yet to see this with our horses." She added, "another thing we noticed since we started using the block, is that our horses' eyes instantly cleared up. The eyes went from a reddish pink to a bright white."
With the cost of the block added in, overall day-cost dropped 22%.
With everything they saw with their horses, the Millers are convinced that proper nutrition is essential in general health and a horse's ability to perform physically. "When you have good genetics, feed quality hay, and properly supplement with a product such as SweetPro®, there's nothing that you can't do with a horse."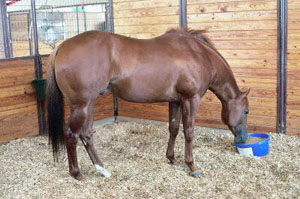 It's the best product he's seen in 41 years of the horse breeding business!
J.D. Blondin of Moon Lake Equine Center in Elm Grove, Louisiana has been breeding stallions for 41 years. A past President of the American Quarter Horse Association (AQHA) he has had over 300 grand champions and won every stock show and congress. He also has served 8 years on the Louisiana state racing commission.
Moon Lake is now standing the current #1 quarter horse sire in racing, "Walk Thru Fire". This stallion is royal bred by "First Down Dash" and out of a mare named "Sweet Beduino". His dam (Sweet Beduino), grandam and great-grandam are all past champions. His first foal crop (of 18 to race) has produced 5 winners halfway through the season (two were $1M+ plus futurities) His own earning are approaching $1M from this first class.
Demand to breed to Walk Thru Fire is enormous as a result but there has been one problem in the past, he has had poor fertility, being able to handle only 2-3 mares per collection. J.D. and his son Justin (Breed Manager) tried everything to bring up his potency but nothing did the job until they heard about and tried EquiPride® from SweetPro® Feeds. Since then motility has jumped 4 fold and sperm counts went from 75M to 175M. This took place in 2 months! Now they can handle 6-8 mares per collection. The financial implications of this, dollar to performance, has everybody very pleased. Another result of high sperm counts is that they can now freeze the semen and ship it across the country to the mares. This benefits everyone because there is no time loss, stress from travel and exposure to possible disease.
Walk Thru Fire has always been a finicky eater, even the vets couldn't figure out why, but now on EquiPride® is eating much better. His vitality and condition is also improved.
Now J.D. has all the stallions, mares, colts, filly's and show yearlings at Moon Lake using EquiPride® and is seeing a big difference in them. He tells us that when the coats of the horses start dappling, that they have reached peak nutrition levels. J.D. says that something in this product (EquiPride®) is working and he highly recommends it to anyone. He says that just because something is on the label of a product, doesn't mean the horse's body can utilize it. With EquiPride® it can! J.D. goes on to say it's the best product he's seen in 41 years of breeding horses! He is also is putting their cows on SweetPro® cattle supplements as a result.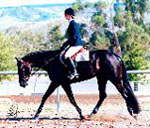 "His coat is gorgeous and shiny – he sure doesn't look like a 24-year-old!"
Red's Playboy is an APHA, 1979 sorrel overo gelding by Red Sonny Dee. He has 832 Halter points; 1,755 Performance points; World Championship in Halter; Reserve World Championships in Youth Horsemanship and Youth Trail. Red is now a retired show horse, although he does cart around walk-trotters every once in awhile. We also like to take him on trail rides.
We had noticed that Red was getting very skinny no matter how much hay and grain we fed him. His back had a sunken, hollow look that made his backbone stick up and his ribs were noticeable. We tried expensive supplements and senior horse feed, but nothing seemed to help him gain weight. Then we tried SweetPro®'s EquiPride® supplement and put the EquiMate® lick block in Red's pasture. As soon as a month later, we noticed Red starting to fill out over his back. The supplements helped Red to better absorb his food and gain weight. His hooves have improved also—no cracks. His coat is gorgeous and shiny—he sure doesn't look like a 24-year-old!
"Driftwood's Angel" is an APHA, 1980 bay overo mare. Dee was a show horse and had several babies. She's now my Mom's trail horse. As Dee has gotten older it has been very difficult to keep weight on her. As with Red, we would feed her a lot of hay, grain and senior horse food, but she still didn't gain much weight. Her coat looked terrible—it reminded us of pig hair! SweetPro®'s supplements did wonders for Dee.
She's gained weight and her coat looks amazing. She was able to shed the "pig" hair and grow a healthy, shiny coat. In general, we have noticed weight gain and clean droppings—evidence that the supplements are helping our horses use and benefit from the food we give them. Our horses' hair coats and hooves have never looked better. Plus, the horses love the taste of the EquiPride® supplement and the EquiMate® lick block!